Is Invisalign Right for Me?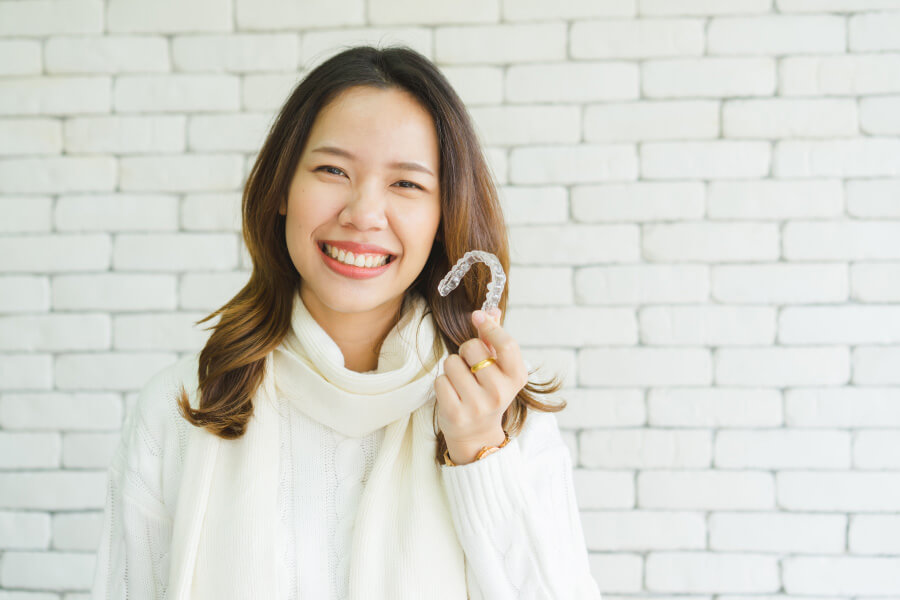 Are you looking for alternatives to traditional metal braces? Many patients put off straightening their teeth because they are worried about wearing braces. Invisalign® offers patients the ability to straighten their smile with clear, barely noticeable aligners! Keep reading to learn more about Invisalign.
How Does Invisalign Aligner Therapy Work?
Invisalign is a clear alternative to metal braces that discreetly straightens teeth. It is a state-of-the-art orthodontic treatment that utilizes clear plastic aligners to gently push teeth into their desired positions. After an iTero scan, a precise 3D model is created of the teeth and a series of aligners are designed based on this model. Patients will wear each set of aligners in the series for one to two weeks depending on the timeline of their treatment plan.
Benefits of Invisalign
Wondering if Invisalign is right for you? Here are just some of the amazing benefits that come with Invisalign treatment:
Nearly invisible aligners so you can straighten your teeth with confidence
Removable aligners allow you to easily brush and floss your teeth
Made of comfortable, smooth plastic that won't irritate your cheeks and gums
Fewer dental appointments
Do I Qualify for Invisalign?
Invisalign can treat mild to moderate orthodontic issues and can sometimes even be used for more severe cases. Many patients qualify for Invisalign treatment. If you are looking for a teeth straightening option that's comfortable and discreet, then chances are you are a great candidate for Invisalign! At your Invisalign consultation, we will examine your smile, discuss your goals, and provide a recommendation based on your specific needs!
Invisalign at CarolinasDentist
Are you looking for Invisalign treatment in North Carolina? At CarolinasDentist, we have ten offices across the state that provide exceptional orthodontic care to help you achieve a healthy, beautiful smile. Please contact us today to schedule your Invisalign consultation!