Orthodontic Treatments in NC
Unfortunately, not everyone is blessed with a straight, confident smile, but at CarolinasDentist, we strongly believe that everyone deserves one! If you're tired of dealing with a crooked or gapped smile, we can help straighten your teeth with orthodontics. It's not just about the cosmetic benefits — straight teeth can also help you avoid a whole bunch of other dental issues like tooth decay, gum disease, and difficulty chewing.
Orthodontics can fix:
Protruding teeth
Overbites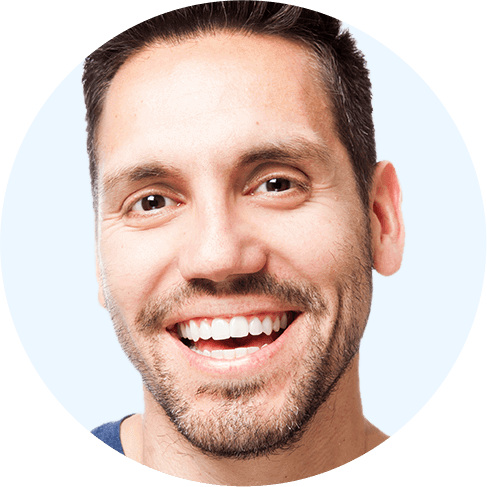 Invisalign®
Invisalign is a teeth-straightening method that uses a series of clear, custom-made aligners. That's right — no metal brackets or wires involved at all! The aligners blend in with your teeth so they're barely noticeable, and since they're made of smooth, BPA-free plastic, they won't irritate your cheeks or gums. Both teenagers and adults can use Invisalign to correct the alignment of their teeth!
CarolinasDentist is proud to be the region's largest provider of Invisalign! We have helped many patients achieve the smiles they've always dreamed of having with these subtle, clear aligners. In just one visit to our office, we can use our high-tech iTero digital scanner to show you a preview of your possible treatment results with Invisalign. You'll be able to see the dramatic transformation for yourself before even beginning!
Invisalign FAQ
What is the treatment process like?
It all starts with us mapping out your treatment plan. We take digital impressions of your teeth to plan how to get your teeth from their current position to your smile goal. Then, we send the impressions off to be made into your custom aligners. Every two weeks, you'll pop in a new set of aligners, each one getting you closer and closer to your end results. You'll only have to come in for a quick check-in about every six weeks so we can make sure everything is going smoothly and we can hand off your next few sets.
How long will my Invisalign treatment take?
Treatment length is really on a case-by-case basis, but on average, patients use Invisalign for about a year. Two big factors in how long your treatment takes are how much your teeth need to be moved and how closely you adhere to the amount of time you're supposed to wear the aligners each day.
How much does Invisalign cost?
Invisalign is comparable to the cost of traditional braces. The price also depends on how complex your case is. If you're at all concerned about whether or not you can afford Invisalign treatment, please let us know. CarolinasDentist has a number of financial options available, including an in-house dental plan and financing, to make it easier for patients to achieve their dream smiles.