Your First Visit to Our Dental Office
Getting ready to come in to one of our dental offices? The CarolinasDentist team looks forward to welcoming you and your family into our practice family! It's our goal to make sure each and every one of your visits to CarolinasDentist goes off without a hitch, so we've outlined what you should bring and what you can expect at your first appointment.
What to Bring
Here's a new patient checklist to go through before coming in for the first time:
Photo ID (can be a valid driver's license or a state ID)
Insurance Card (if you're planning on using your dental insurance)
Completed New Patient Forms(you can fill them out in advance, or complete them at check in)
Dental Records/X-rays (you can have your old dental office send us your most recent records but it's okay if not)
What to Expect
During your first appointment, you will:
Have a new patient consultation with your dentist
Get a full comprehensive exam from the dentist
Discuss your personalized treatment plan and any next steps
Receive a hygiene evaluation and full dental cleaning
Get any necessary treatment (we provide same-day treatment when possible after diagnosis)
New Patient Specials
We're grateful every time a new patient walks through our doors, so we want to give a little something back as well. If you're coming in for your first trip to our office, you're more than welcome to take advantage of one of our new patient gifts as a token of our thanks.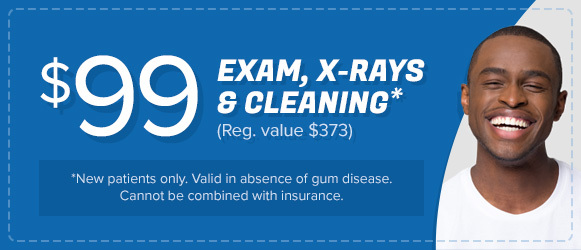 Contact Us