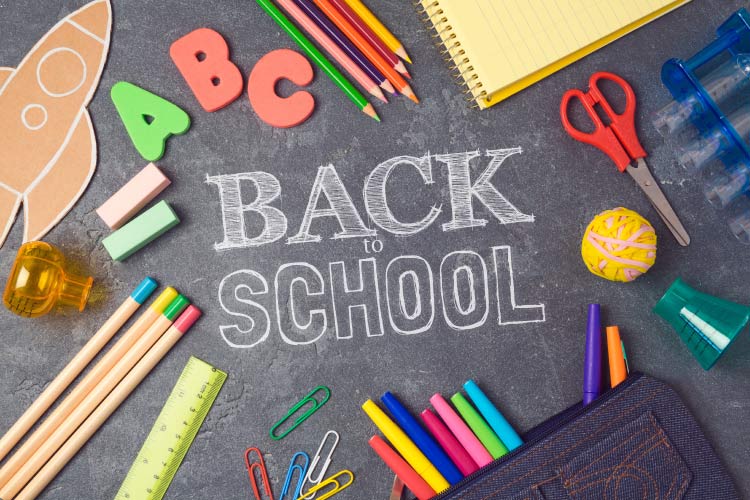 Back-to-school is the perfect occasion to reevaluate your child's health and their preventive care needs. After a summer of snow cones and ice cream, you'll want to make sure your child is on track for a healthy smile throughout this new school year. Here's a back-to-school dental checklist for all the busy parents and caretakers out there.
Establish an Oral Hygiene Routine

Make sure your kids gently brush their teeth every morning and before bedtime, and floss at least once day. If your family was more relaxed about oral hygiene over the summer, it's time to start again!

Change Out Old Toothbrushes

We recommend replacing toothbrushes every 3-4 months. Now is a great time to start fresh with a new one. When you're out getting new pencils, tissue boxes, dry-erase markers, new shoes, and a lunchbox, let your child pick out a fresh toothbrush that will make their oral care routine more exciting.

Pack Tooth-Friendly Lunches & Snacks

Lean proteins, vegetables, whole grains, and fruits are better for teeth than sugary snacks and refined starches like potato chips and cookies. Pack fun and bite-sized snacks like carrot sticks and guacamole, celery with nut butter, low-sugar yogurt and fresh berries, turkey pinwheels, and string cheese. These are all tasty and tooth-healthy options. Help them consume juice and soda in moderation, since these sugary drinks increase the risk of decay. Send them with a refillable water bottle that has their favorite character on it so staying hydrated is fun!

Get an Athletic Mouthguard

If your child plays a sport or participates in physical activity that puts them at risk for mouth injuries, get them fitted with a custom mouthguard. A well-fitting mouthguard will protect their teeth from getting knocked-out or damaged by elbows or sports equipment. Ask us about our custom-fitted mouthguards for kids at your back-to-school appointment.

Schedule Your Child's Checkup!

Be sure to schedule your child's next dental appointment before school gets busier with end-of-year projects, papers, and examinations! We will clean your child's teeth and make sure their oral health is in good shape and ready for success. Back-to-school is a busy time for doctors and dentists, so call us today! CarolinasDentist has offices located in Fayetteville, Fuquay-Varina, Raeford, Southern Pines, Spring Lake, and Wilmington. We look forward to helping your child look and feel their best this school year.